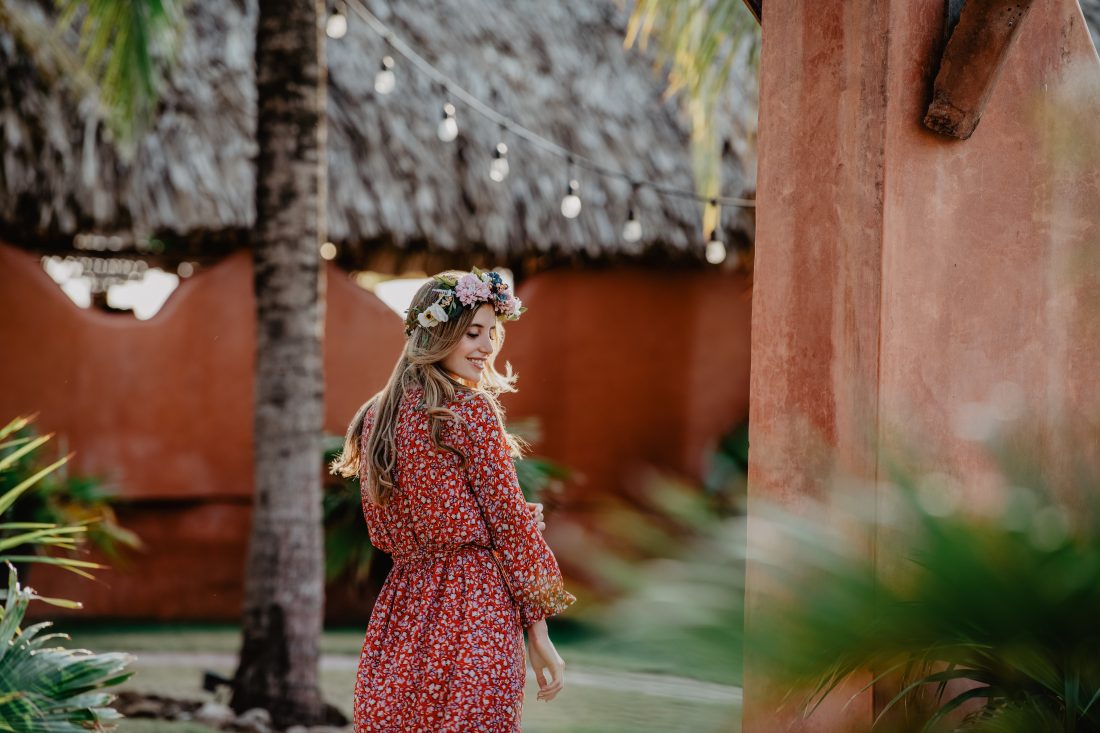 Floral wreaths highlight
Playful floral wreaths give you and your outfit a truly special look on your special day. A delicate floral wreath is a beautiful accessory for your hair, an expression of lightness and pure zest for life. A floral accessory is ideal to pair with a casual boho or vintage outfit for an eye-catching look at any garden party, strolling on the beach in Ibiza, or as a cute combo with a dirndl.
Inspired by midsummer festival in Scandinavia
The floral wreath is inspired by those typically worn for the Swedish "Midsommar", the summer solstice festival that is celebrated in many Scandinavian countries. For this event in celebration of nature, young girls usually wear white or flowery dresses and plaited wreaths made of meadow flowers or birch twigs as headdresses, and dance like elves through the magical midsummer night.
Coachella festival vibes
Trendy bloggers are showcasing the look: hand-made floral wreaths are almost part of the proper dress code for attending a summer festival. Floral decorations made of high-quality artificial flowers and leaves can be paired just as well with airy summer dresses as with cool jean shorts or even with a somewhat tougher leather look. Enjoy the summer, sun, and good music wearing YOUR perfect look with flowers in your hair – what could be better for an unforgettable time at a festival?
Floral wreaths for weddings
The hype of playful flower wreaths has long since spilled over into current bridal fashion. Vintage dresses in bohemian style are in fashion and are often worn paired with an enchanting, high-quality hair wreath. There are no limits to creativity here – this trendy accessory can be worn naturally with loose hair or combined with a romantic braided hairstyle.
Find your inspiration
There are endless occasions when a wreath of flowers fits perfectly! You can find many high-quality models in different colours and designs on our online CELEBRIDE shop.
Webshop CELEBRIDE
The earth laughs in flowers